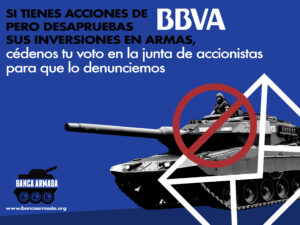 For another year, the organizations involved in the Banca Armada campaign will participate in the general meeting on BBVA's actions to be held around March 16, 2018. This participation is directed at denouncing the politics of BBVA's decision to invest in businesses dealing with weapons and armaments.
BBVA continues to be the Spanish banking institution that invests the most in armament industries, leading the way with a value of 2,757,063,000.11 € between 2011 and 2016.
During the past year, BBVA has tried to diminish its partial responsibility for the dramatic consequences of at least 30 armed conflicts and tensions that occured all around the world. The activists working on the Banca Armada campaign have highlighted these perverse practices that are allowing armament businesses to benefit twice as much from the current refugee crisis.
On one hand, arms and weapons companies manufacture and sell the weapons that fuel armed conflicts and tensions from all sides; and on the other hand, they send security equipment and border control to prevent the entry of refugees to the EU, which are the same people fleeing the conflicts that these institutions are feeding.
Our objective is to explain and clarify the consequences of investing in the arms industry to stakeholders in these companies, but also to the general society.
If you are a stakeholder in BBVA and do not approve of their political decision to invest in the arms industries, you can allow us to intervene and take action on your behalf.
To allow us to vote on your behalf, you must send us your signed delegation of your vote, which you should have received from the bank with the letter call to the board, but without filling the name of the person who will attend because we are not sure which activists will be present at each shareholder meeting.
In the case that you haven't received the letter for the shareholders' meeting, you can order or ask for one at any BBVA branch, or by emailing: accionistas@bbva.com
Once signed, you must send the delegation of your vote by postal mail before Tuesday 07/03/2018 to the following address:
SETEM Catalunya – C/Bisbe Laguarda, 4 – 08001 Barcelona
info@bancaarmada.org
If you have any doubts or questions, contact delegacio-vots@bancaarmada.org or call 93 441 53 35.
#NoBancaArmada