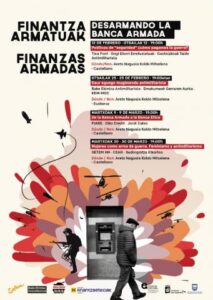 From February 12 to March 30, the Armed Bankimg Campaign will be present at Koldo Mitxelena Kulturunea in Donostia with four days under the title "Disarming armed banking, free entry".
These days will raise awareness of how some entities use their money to finance weapons and present ethical banking and anti-militarist initiatives.
After the end of the conference, and coinciding with the campaign of income tax declaration, on April 16 will also be organized a workshop on fiscal objection, still without confirmed place. It will be open to all persons who do not wish to contribute to military expenditure through their taxes.
The question will be answered: what are the banks doing with our money?
The intention is for citizens to know that there are banking alternatives that allow their savings not to be used to contribute to the global arms race and militarization.