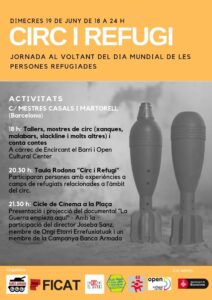 This June 19 SETEM Catalunya and the Banca Armada Campaign organized the "Circus and Refuge" Seminars, which will be held on Calle Mestres Casals i Martorell together with Ficat, Encircant el Barri, Open Cultural Center and Casal del Barri del Pou de la Figuera in the programming of the Old Town's Fiesta of the Old Town of Barcelona.
The day, which will start at 6:00 pm and end at midnight, will begin with workshops, circus shows and storytelling for children, by Encircant el Barrio and Open Cultural Center. At 8:30 pm we will have the roundtable "Circus and Refuge", where people with experiences in refugee camps related to the circus will participate.
Of all the activities, we can highlight the screening of the documentary "La guerra comienza aquí", of Ongi Etorri Refugees and directed by Joseba Sanz, with whom we will count during the presentation and the projection. Throughout the documentary, the importance of the Basque military industry and the volume of export of arms from the Basque Country to countries of the Middle East that are at war is revealed.
We will also organize an artistic installation that will serve to show all the links between the state banking entities that are part of the armed bank with the militarized management with which the Spanish borders are.