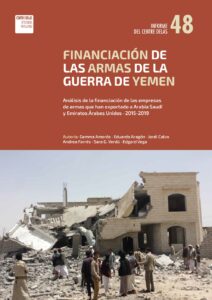 According to UNHCR data, in Yemen 80 per cent of the population needs humanitarian aid to survive, there are about 4 million internally displaced persons and more than 7 million people who need nutritional assistance. It is, in this serious context of armed conflict and human rights violations, that we present a case study on who support the arms companies whose military material is exported to the main countries of the coalition: Saudi Arabia and the United Arab Emirates.
This new report shows data on the financing of 15 of these companies: Airbus, BAE Systems, Boeing, China Aerospace Science and Technology Corporation, General Dynamics, Leonardo, LIG Nex1, Lockheed Martin, Navantia, Norinco, Raytheon Technologies, Rheinmetall AG, Rolls-Royce, Textron and Thales Group.
The Spanish armed banks have assigned 8,686 million of dollars to 9 companies that have exported arms to Saudi Arabia and the United Arab Emirates: Airbus, Boeing, General Dynamics, Leonardo, Navantia, Raytheon Technologies, Rolls-Royce, Thales and Rheinmetall AG.
BBVA and Banco Santander are the Spanish banks that have allocated the most funding to arms companies, supplying the principal armies involved in the war in Yemen, with 5.231 million dollars during the period 2015-2019.
Authors: Gemma Amorós, Eduardo Aragón, Jordi Calvo, Andrea Farrés, Sara G.Verdú, Edgard Vega.
You can consult and download the executive summary in Spanish, Catalan and English. If you want to read the full report you can download it.