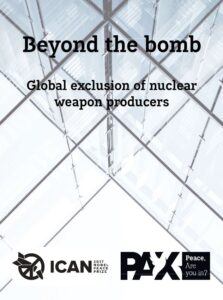 The last part of the report from Don't Bank to the Bomb, Beyound the bomb; Global exclusion of nuclear weapon producers, has already been published. The publication includes its updated Hall of Fame, which increases in 14 entities the number of free entities of nuclear funding. The new document shows that the number of financial institutions that adopt and reinforce their policies to avoid any financial participation in nuclear-weapon-producing companies is growing rapidly.
Altogether, the 36 institutions of the Hall of Fame maintain at least 1600 million euros in assets outside the nuclear weapons industry. Special mention must be made to the ethical financing entities present in our closest environment that appear, FIARE Banca Etica and Triodos Bank. The report also mentions the bad praxis of BBVA that despite having codes of investment in defense industry also found that it had several investments in companies that have identified nuclear weapons.
You can download the original report in English here.