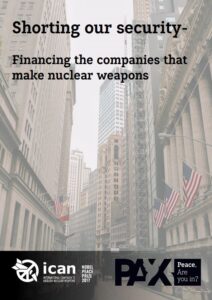 Shorting our securityFinancing the companies that make nuclear weapons: a global report on the financing of nuclear weapons producers.
The new report from the "Do not Bank on the Bomb" series titled "Shorting our securityFinancing the companies that make nuclear weapons" examines investments made in companies that are involved in the nuclear weapons industry. It should be noted that the new research led by PAX, which has as its main author Susi Snyder and has the collaboration of Profundo a Dutch consultant for economic research that analyzes chains of commodities, financial institutions and social enterprises, reveals that the number of entities financing continues to decline, however, the amount of money invested has increased. The balance is positive, since almost a hundred financial institutions have ended their relationship with the nuclear weapons industry since the end of 2017. At the same time, other financial institutions have begun to finance companies that produce key components for nuclear weapons. Almost a third of all the financial institutions listed in the previous update of this investigation no longer has any investment at all, which shows that there are options in the market to allow any investor to detach from this type of investments quickly.
The total figure that unveils the report is $ 748 billion invested in the world's foremost leading nuclear weapons producers for 325 financial institutions between January 2017 and January 2019. More than half of all investments were made by ten institutions Financial: Vanguard, BlackRock, Capital Group, State Street, Verisight (now known as Newport Group), T. Rowe Price, Bank of America, JP Morgan Chase, Wells Fargo, and Citigroup.
In millions of dollars, banks and public and private financial institutions of the Spanish State have invested the following amounts during this period from 2017-2018. Banco Bilbao Vizcaya Argentaria (BBVA) 4,280, State Capital of Industrial Participation 3,219, Santander 2,193.6, Banco de Sabadell 127, Magallanes Spain 16.7, Fundación Bancaria Ibercaja 10.8. You can download the original report in English here.