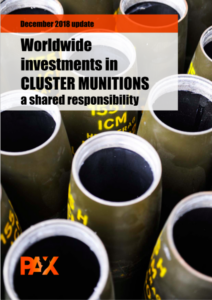 Next Monday, December 3rd, will mark 10 years since the Convention on Cluster Munitions was held in Oslo, Norway. The anniversary coincides with the publication of the annual report "Worldwide investment in cluster munitions: A shared responsibility 2018", published by the international organization PAX, member of the international campaign Stop Explosive Investments that collaborates the Banca Armada campaign.
The report shows that the global ban on cluster munitions is having an extraordinary impact: Compared to the 2017 report, the global level of financial investment in cluster munitions dropped from US$ 31 billion to $9 billion – a reduction of 344 per cent, the report finds.
In addition to the decrease of investments in cluster munitions producers, the report also shows a marked increase in the number of financial institutions explicitly excluding cluster munitions producers from investment. In the 2018 report a total of 110 financial institutions were identified as explicitly excluding investments in cluster munitions, up from 84 in the 2017 report. The report notes a growing trend among investors to put in place clear divestment policies.
Download full report here.