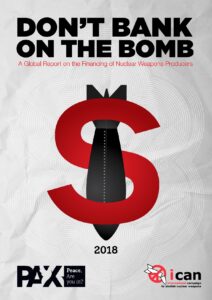 Don't bank on the bomb: a global report on the Financing of Nuclear Weapons Producers
The 2018 Don't Bank on the Bomb Report found:
A total of USD 525 billion (an increase of USD 81 billion) was made available to the nuclear weapon producing companies, of which USD 110 billion came from just three companies: BlackRock, Vanguard and Capital Group.
329 banks, insurance companies, pension funds and asset managers from 24 countries invest significantly in nuclear weapons
The top 20 nuclear weapon producing companies stand to benefit the most from this increased nuclear threat, most of which have dedicated significant lobbying resources in Washington DC.
On a positive note, since the adoption of the UN Treaty on the Prohibition of Nuclear Weapons 30 companies have ceased investing in nuclear weapons.
Two of the top five largest pension funds in the world are divesting from nuclear weapons.
According to the Spain profile, currently in Spain the financial institutions involved in the financing of companies producing nuclear weapons are: BBVA, Bank Santander, Bank Sabadell, Advalor Movable Investments, Magallanes and the State Company of Industrial Participations.
Download the full report here.